Effective Physiotherapy Treatment for Cycling
Why You Should Go for Cycling Physiotherapy
Physiotherapy for Increased Cycling Performance
Physiotherapists are experts in movement patterns and are able to help you improve your biomechanical efficiency.
Able to identify muscular imbalances or weaknesses that could significantly improve your cycling performance and come up with training plans to strengthen these muscles.
Strengthening weaker muscles – injuries can be prevented by avoiding the overuse of stronger muscle groups.
Cycling Injury Prevention
Ensure that your movement patterns are optimal and that no muscle groups are overcompensating.
Physiotherapists are experts in body movement and posture and thus would be the most suitable candidates to advise you on the following.
Treating Cycling Injuries with Physio
Physiotherapists are experts in the musculoskeletal system. Meaning that they would be experts with regard to injuries that involve the muscles and bones, which most injuries are.
Physiotherapists are experts in the human musculoskeletal system and are experts in body movement patterns. Efficient movement patterns can make a big difference in cycling performance, helping you to cycle faster and further with the same amount of effort. In this article, we explore more on how cycling physiotherapy can make a positive impact on your cycling journey.
What to expect on your first appointment
If you would like to schedule an appointment with our physiotherapists to assess your injury, do make an appointment so that we are able to accurately diagnose the injury and start treatment promptly. This would ensure a speedier recovery with lesser disruption to your training programme. After your condition has been diagnosed, our therapist will share their findings and come up with a mutually agreed upon a treatment plan to help you recover and to ensure that a relapse does not occur.
Why choose Core Concepts Physiotherapy?
We are Singapore's largest private physiotherapy group, established in 2003. We've treated many athletes including local competitive triathletes. We adopt a hands-on approach and use manual therapy for most of our sessions which we believe is the most effective approach to relaxing tense muscles and restricted joints.
At Core Concepts, our physiotherapists are firm believers in curing your problems and not just treating the symptoms. We understand that you don't want to spend all day on the rehabilitation bed, so we get to the root of the cause right from the first visit. We aim to not only get you better but also to equip you with the right tools to stay better as well.
Our first step in every case is to determine the cause and peel back the layers of interlocking causes; after all, pain is often very complex and rarely attributable to a single factor.
Our ability to treat patients better and faster is dependent on our history of effective differential diagnosis. Each of our physiotherapists is invested in keeping current with the latest thoughts and practices.
Our team of Cyclist Therapists
Ken Liew – Principal Physiotherapist and Cycling enthusiast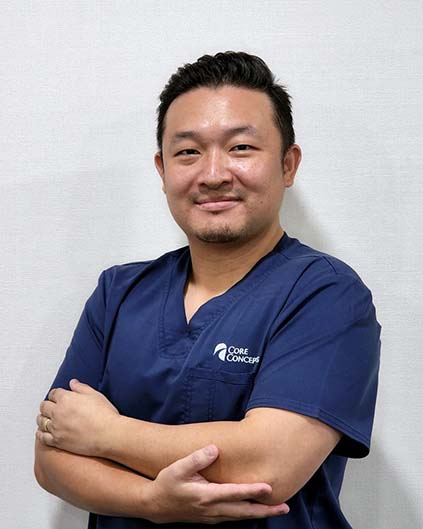 Qualifications
Bachelor of Science, University of Western Australia
Masters of Physiotherapy, Curtin University
Areas of Interest
Osteoarthritis
Sports Injuries
Career Highlights
Physiotherapist, Resorts World Sentosa
Physiotherapist, St Andrews Junior College Rugby